Blue Mountains Pilgrimage Trail from Emu Plains to Bell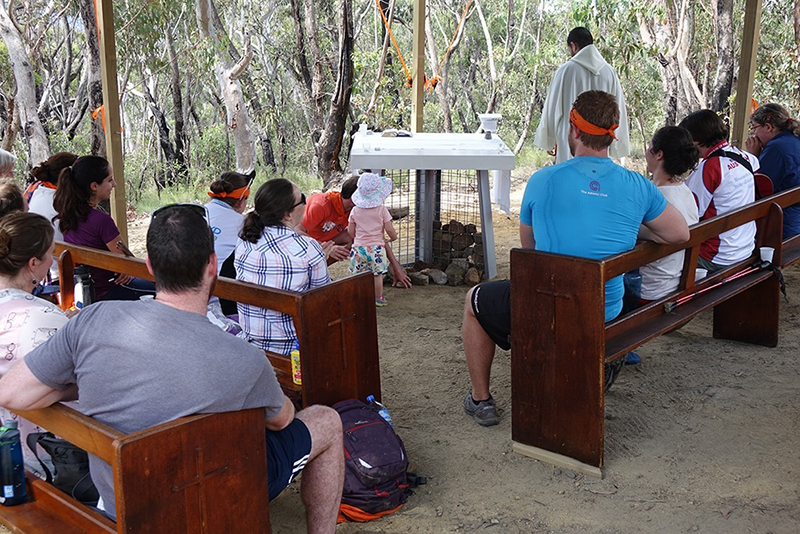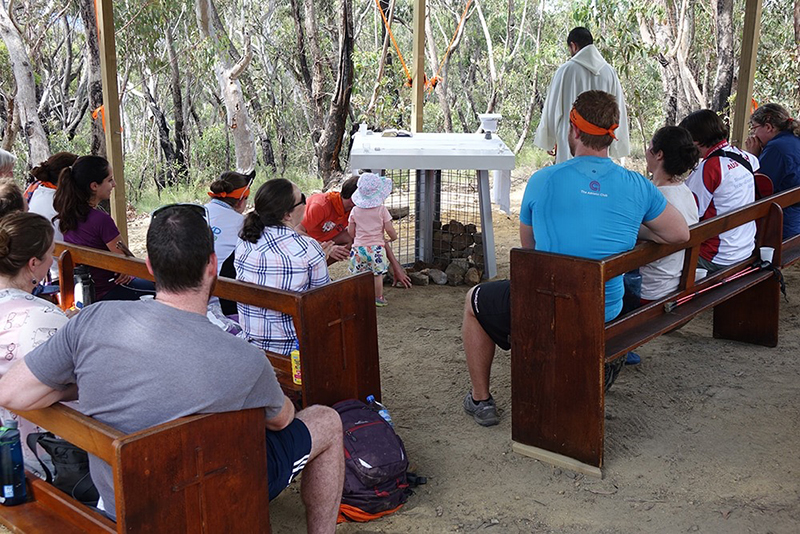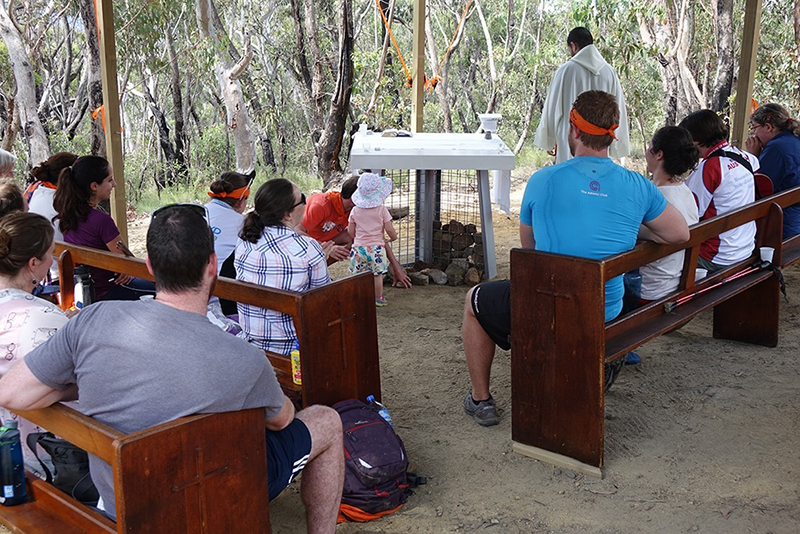 The tiny village of Bell, on the junction of the Bells Line of Road, Chifley Road and the Darling Causeway, at the most north-western tip of the City of the Blue Mountains, has become a new destination for pilgrims. Carrying rocks all the way from Emu Plains to Bell, on the 7-day Epiphany Pilgrimage, or the Way of the Magi, the pilgrims are commemorating the Christian journey of the Three Wise Men

– and like the Wise Men, the rocks are the gifts they are bringing.
In its second year, the pilgrimage takes place from 2-8 January. This year it included 37 pilgrims ranging in age from 17 to 70. On their journey, the pilgrims spend each night in church halls, with meals provided by local parishioners. They end their journey at the Chapel of the Magi in Bell, where they place their rocks into the gabion cages that will make up the chapel's walls. Some rocks have also been placed into the altar, which was created by Blue Mountains sculptor Terrance Plowright.
Fascinatingly, as the number of westerners identifying as religious appears to be on the decline, the number of people making pilgrimages has been rising.
In the UK, the new British Pilgrimage Trust's slogan is "Bring Your Own Beliefs." The Trust promises that you will rediscover your relationship with self and nature and that, by engaging with the world "in the way your body was designed to do," you will find "a sure path to feeling grateful for being alive."
Jungian psychology suggests that pilgrimages are instinctual, an unconscious need to perform a physical journey in order to travel inward in our quest for meaning and wholeness.
One of the world's most famous Christian pilgrimages is along the Way of St James to the Santiago de Compostela Cathedral, in Spain. It's otherwise known as the Camino de Santiago and was made even more famous by Martin Sheen in the 2010 film, "The Way."
While many walk the Camino as a spiritual journey, for others it's a popular hiking or cycling trail, and for some it's mainly a cultural experience – a way to explore Spanish art and architecture. UNESCO has declared it a World Heritage Site and the Council of Europe has declared it as a European Cultural Route. Every year, hundreds of thousands of people set out on the Camino, and each year there's a growing Blue Mountains contingent.
In 2013, keen cyclists Margaret and Rowan Bouttell, who were living in Sydney at the time, decided they needed a sea change. They rented out their house and headed to Spain to cycle the Camino. When they arrived, however, they abandoned their bikes and started walking.
According to Rowan, "When you're a pilgrim, you all travel along the same pathway. It's very communal, everyone's on the same page. It's non-judgemental and everyone is supportive and co-operative. For us, it was not religious, but it was a walking meditation. It was a journey of discovery that led us to change the direction of our lives, and that's how we ended up in Blackheath, running Glenella."
For Margaret, the walk was an opportunity to unbundle from life's burdens and stresses: "It's just yourself and your 7kg bag. You have no idea what's going on in the rest of the world, you have no decisions or concerns. There's a real sense of freedom."
Another Blackheath couple, Tony and Cecilia Jacques, first walked the Camino in 2014, and have walked it again every year since. For Tony, a former bomb disposal expert in the army, the pilgrimage taught him to let go of control and trust that the Camino would provide. He found it a very levelling experience.
In 2014, Tony, Margaret and Rowan met at Glenella and shared their Camino experiences. Their joint passion for the pilgrimage led them to coordinate a Pilgrim's Dinner, with guest speakers and a Spanish meal. They're now holding around eight dinners a year, and running Camino training walks on the same weekend. Their last dinner attracted 75 participants.
Interest has been so high, that they launched the first AusCamino Festival in Blackheath – a four day festival bringing together the Australian community of passionate Camino de Santiago pilgrims and prospective pilgrims. From 23 – 26 February, the festival program included a Spanish dinner, Spanish cooking and Hospitalero training classes, stalls and presentations.
Tony, Margaret and Rowan are also passionate about the development of the Great Blue Mountains Trail – "a regional trail from east to west across the Blue Mountains ridge line, accessible from all towns, villages and train stations along the way." They hope that this will eventually be part of a bigger Manly to Mudgee cycling and walking trail. For them, the long term goal is for it to be accessible to hikers, cyclists AND pilgrims.