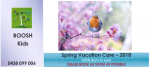 Long Description
At BOOSH we promote a safe and friendly atmosphere where children are encouraged to explore and to use their imagination. We provide experiences such as gardening, cooking, art and design, dance, drama, and so much more in a home-like environment. We also offer a sports program with the assistance of the Australian Sports Commission so that your child can enjoy a variety of well-rounded experiences outside of school hours.
BOOSH is a fully-accredited service, and we adhere to National Quality Standards and Education and Care Services National Regulations. We follow the standards for staff-to-child ratios, and hire qualified and trained staff.
Breakfast is provided during Before School Care, and afternoon tea is provided during After School Care and Vacation Care.
Childcare benefit is available to most families. Your fees will be reduced according to your entitlement.